K-12 Blended Learning in the Classroom
Enrich the Experience, Empower the Learner
Complement your face-to-face classroom with D2L Brightspace, the learning innovation platform built to help every student reach their potential. Whether you're just starting to digitize your classroom or looking to take blended learning to the next level, Brightspace is flexible enough to work for anyone, from novices to pros.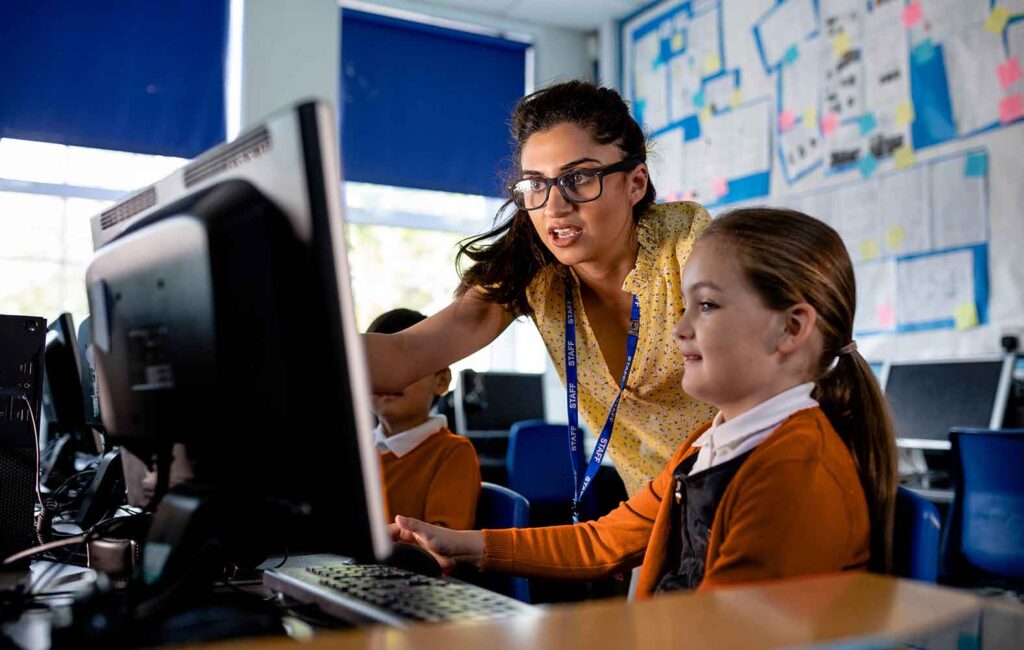 Technology that
Complements the Classroom
It can be hard to get blended learning right, but with Brightspace, getting there is a lot easier. The digital learning tools within Brightspace complement and enrich the classroom to create a better learning experience for all.
Why Brightspace?
Unlock New Possibilities

Leverage powerful and robust tools made to help educators create more impactful learning experiences.

Eliminate Routine Tasks

Free-up time to focus on what matters most-helping learners unlock their potential.

Make Smarter Decisions

Uncover insight into your data with power analytics right at your fingertips.

Educate Anywhere

Deliver high-quality learning experiences anywhere, anytime, on any device.

Reach All Learners

Deliver a learning experience that meets the needs of all people, regardless of age or ability.
Unleash Potential With Blended Learning
With the right tools, like Brightspace, it's easier to integrate technology that enhances your classroom and empowers students to reach their potential.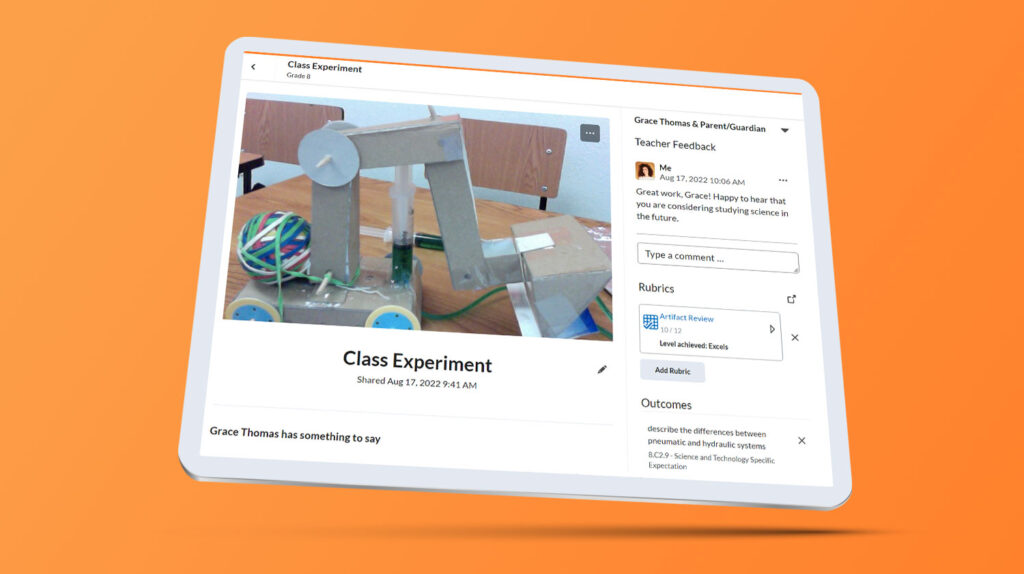 Save Precious Time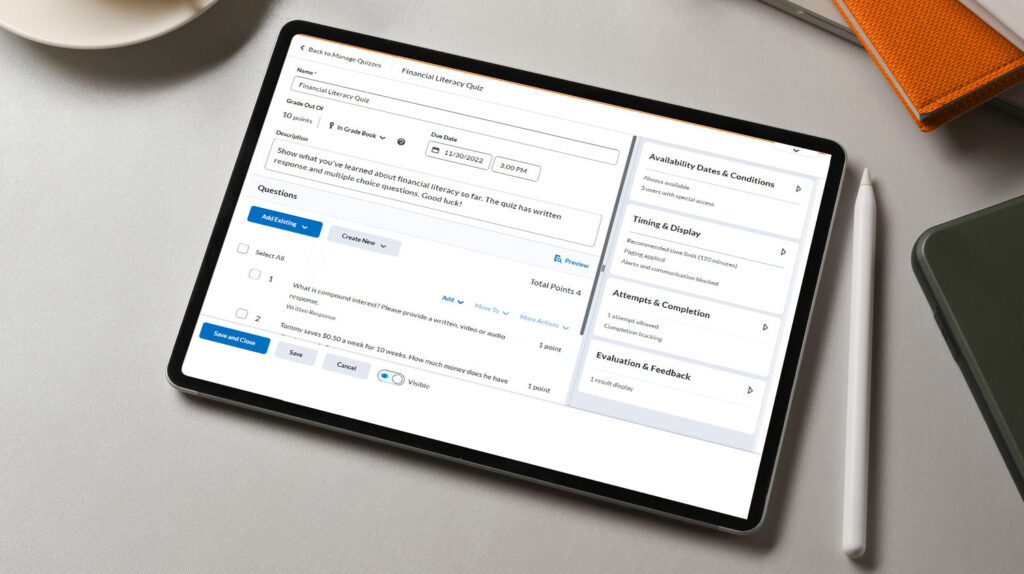 Elevate Instruction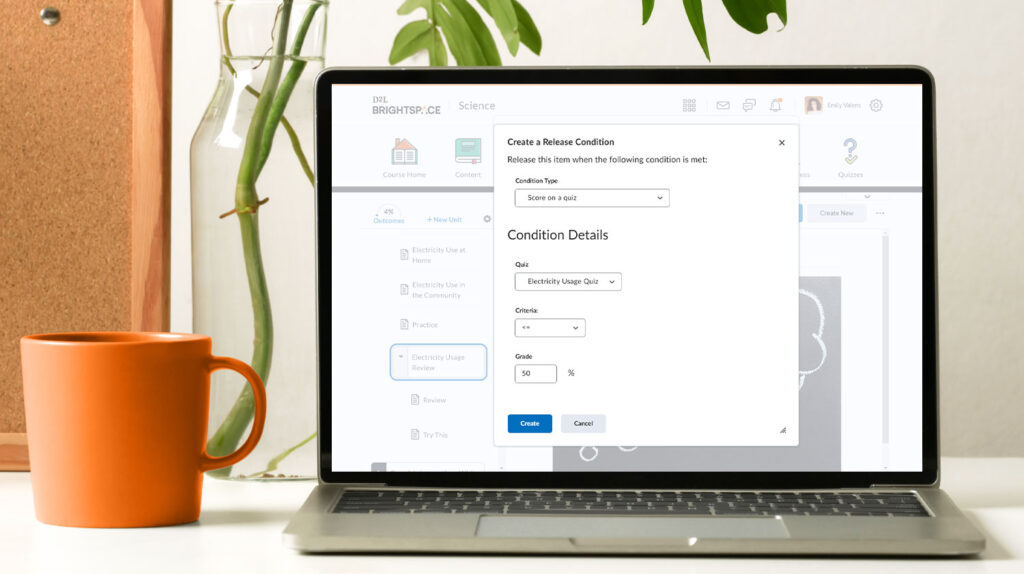 Personalize Learning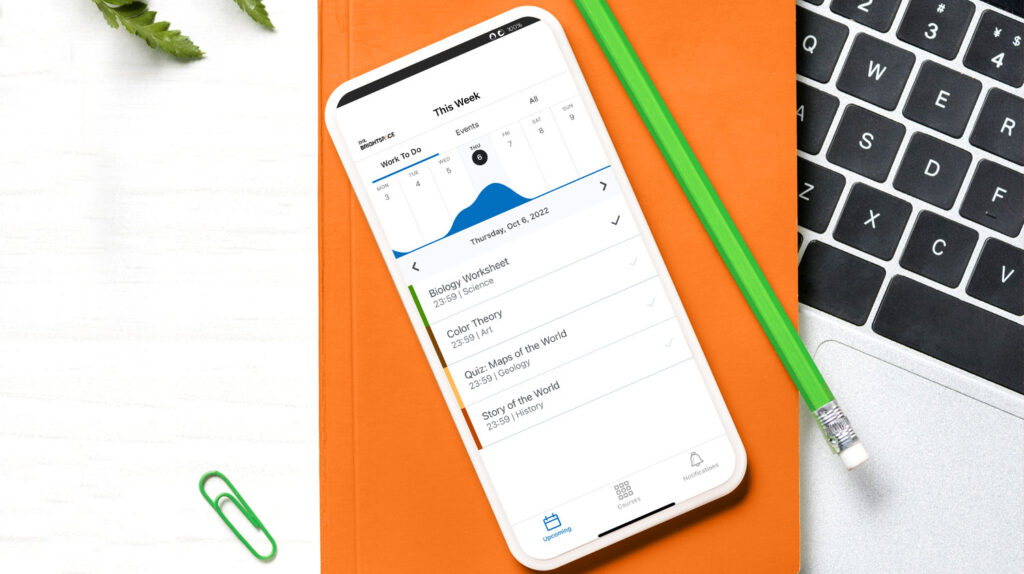 Support Student Well-Being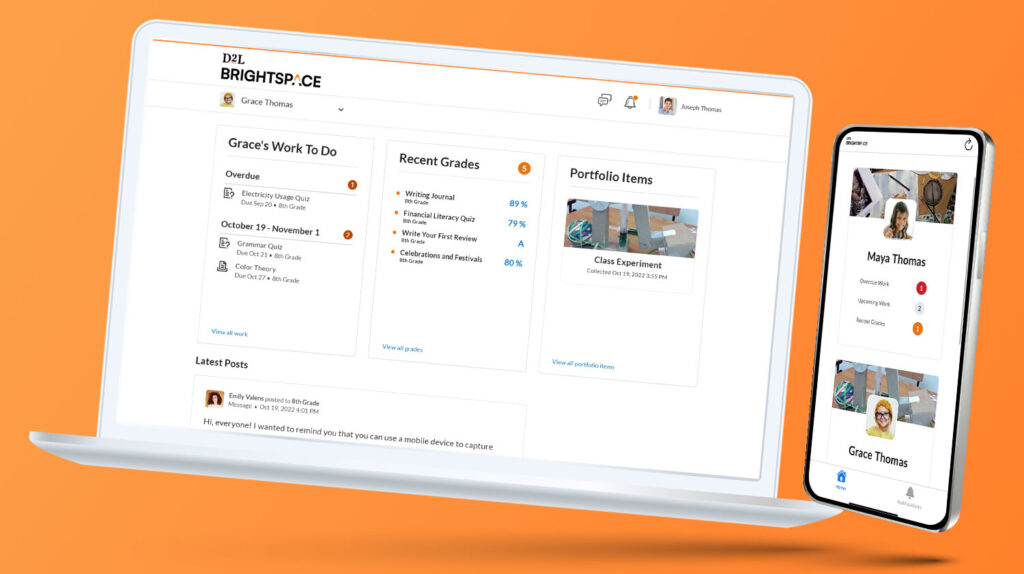 Keep Parents and Guardians in the Know
Save Precious Time
Simplify workflows like communication, attendance and tracking progress so you focus your time on individual student needs.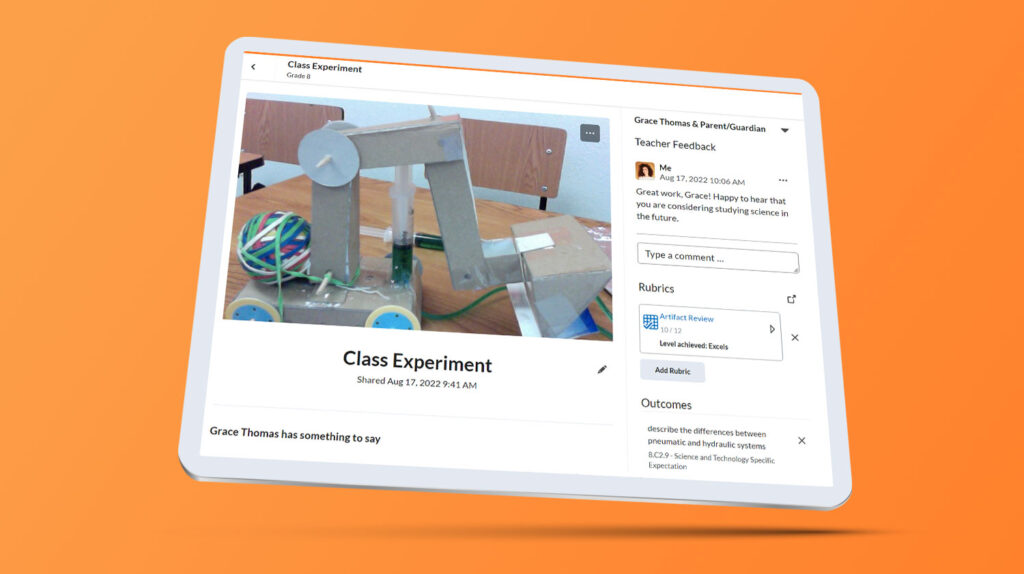 POPULAR FEATURES
Announcements

Schedule routine announcements and keep your students engaged and on track.

Attendance

Customize and easily track attendance all in one place.

Activity Feed

Encourage two-way communication with students on the homepage by posting learning resources and important updates.

Intelligent Agents

Automate reminders and provide helpful nudges to keep students on track.

Portfolio

Capture student achievement as they share photos or videos of their learning.

Class Progress

Keep students on track by viewing, comparing and analyzing class performance.
Elevate Instruction
Complement the in-class experience by offering assessments, course content, videos, or interactive activities online and tie each to learning outcomes.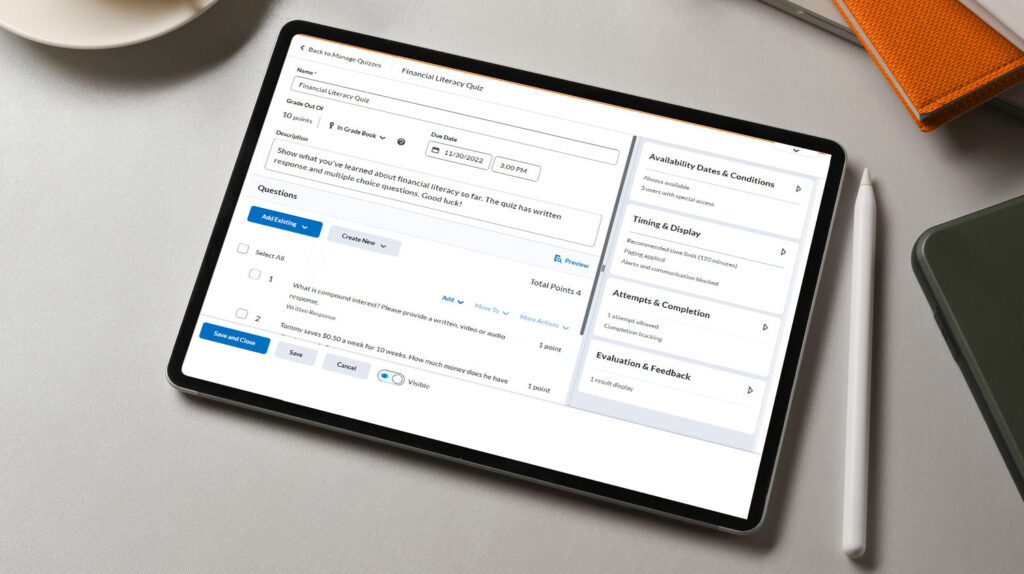 POPULAR FEATURES
Assignments

Create, edit, see submission details, view submissions, connect rubrics and more.

Quizzes

Quickly build quizzes using varying question types and randomly select or shuffle questions from a question pool.

Content

Adding content aligned to outcomes is a breeze. With a click, link to Google Drive, OneDrive, and more.

Video Tools

Record lessons and provide personalized video feedback with ease.

Gradebook

Easily set up a grading system and connect it to your learning activities.

Digital Resources

Make it easy for teachers to enhance the in-class experience with high-quality curriculum-aligned digital content experiences, ready to go in Brightspace.
Personalize Learning
Every student has unique needs, and personalization takes time. Let Brightspace do the work so you can focus on the teaching.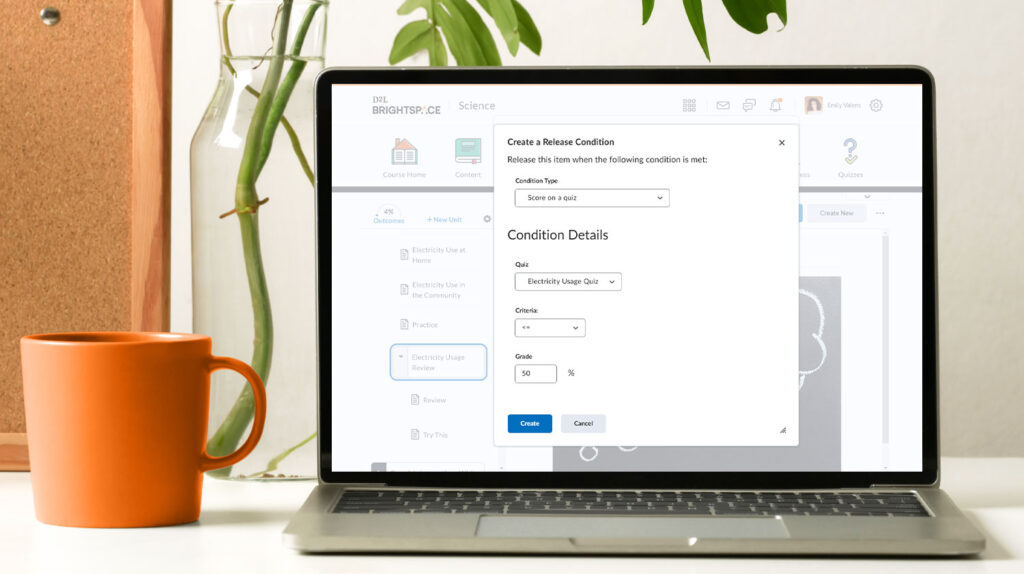 POPULAR FEATURES
Release Conditions

Create personalized learning paths by automatically enriching or remediating based on student achievement.

Accommodations

Help students with varied needs by easily tailoring instruction and activities.

Adaptive Learning

Create scalable, personalized experiences by providing the right content and the right questions at the right time to help each student succeed in their own way.

Flexible Resources

Easily incorporate resources and assessment activities that use different learning modalities, from text to video and audio.
Support Student Well-Being
Help promote academic success and student well-being by supporting the development of social-emotional skills such as self-regulation, organization and responsible decision-making.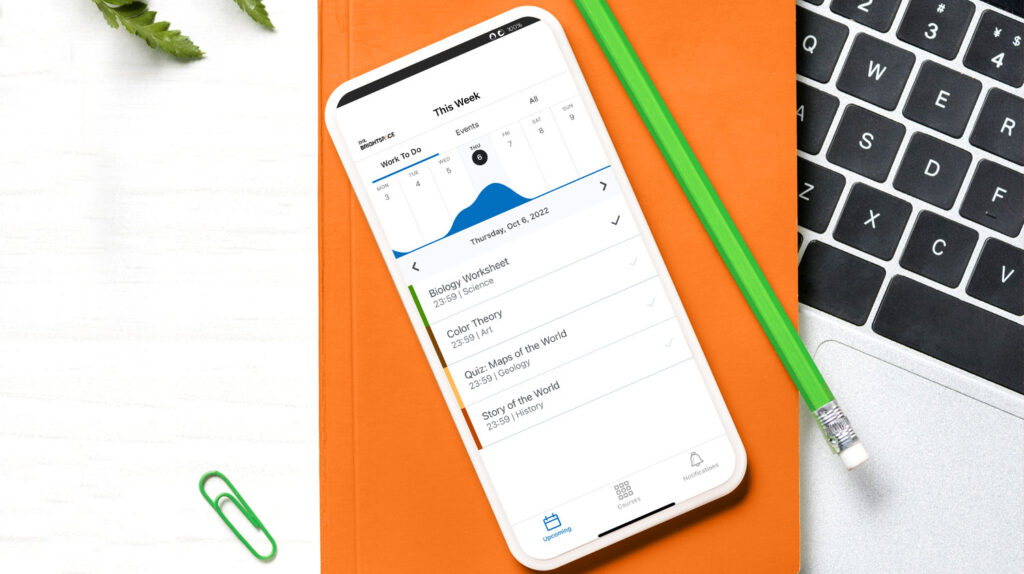 POPULAR FEATURES
Class Materials

Give students multiple ways to access class materials. Either during in-class or after a lesson it's a cinch to review and get extra practice.

Work To Do

Students can see all their upcoming and overdue assessments in one place.

Responsive Design

If a student must be away from school for a day, they can access all their class work, anytime, anywhere from any device.

Awards

Provide positive reinforcement with badges that help students stay motivated and on track.

Differentiated Instruction

Easily set up multiple ways to teach such as flipped classrooms or project-based learning.
Keep Parents and Guardians in the Know
Improve communication between teachers, parents and guardians by offering families a window into the classroom.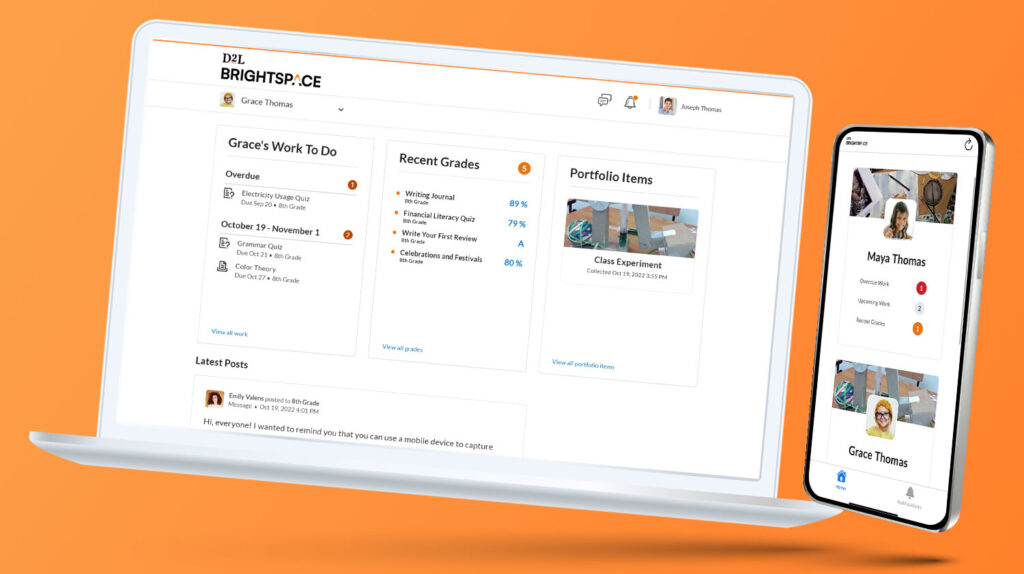 POPULAR FEATURES
Notifications

Send parents and guardians notifications for quizzes and assignments with upcoming due dates.

Work To Do Widget

View upcoming and overdue work, grades, shared Portfolio items, and the classroom activity feed.

Multiple Students

For homes with multiple students in the same school district, make parents' and guardians' lives easier with a single login.
The Power To Elevate Education Is Yours
Create unforgettable learning experiences with Brightspace. We have the technology, expertise and passion to help you and your learners achieve more than they ever thought possible.
Reach everyone with equitable access for all learners.
Teach and learn anytime, anywhere with industry-leading mobile design.
Get 99.9% uptime and peace of mind that our platforms are almost never down.
Connect your favourite tools to easily build the learning ecosystem of your dreams.
Count on rock-solid security with ISO27001, ISO27018 and ISO27017 certifications to keep your data safe.
Adopt with ease whether you're a novice or pro. D2L platforms are easy to use and easy to learn.
Hear What Our Customers Have to Say
Considering turning your classroom into a blended learning environment? Ontario's VLE by @d2l is the way to go. There is a robust selection of tools to help track your students progress. Many integrations such as @Pixton @ExploreLearning and so much more. Amanda Yarascavitch E-learning Teacher, Renfrew County Catholic District School Board
Parents really appreciated the hands-on approach… they appreciated that I wasn't just doing a pen and paper assignment. Myles Sloan 9th Grade Geography Teacher
Students can't give excuses about losing papers, they know how to access [the VLE] it's all there Lindsay Cheal
Having our D2L technical account manager here as an on-site resource helping our team with the implementation of eCLASS and the adoption of best practices has been invaluable. We would not be nearly as far along in the implementation if he had not been at our side. Tricia Kennedy Executive Director, eCLASS Transformation, Gwinnett County Public Schools
We'd been using all these clunky LMS platforms and getting frustrated. Brightspace is the first tool we found that doesn't put a barrier between us and our goals, so getting teachers on board and building new courses is really straightforward. Dr John VanWagoner Superintendent, Alpena Public Schools
Brightspace allows me to keep everything in one well organized space that can be accessed anytime, anywhere. All of the courses I worked so hard to build last year were uploaded with a click of a button and ready to be reviewed and used again this year. Alissa Miller Eighth Grade Math Teacher, Alpena Public Schools
Students live in a digital world and we have to meet them where they are. Our initiative is to engage kids with technology and Brightspace is the hub that makes this possible. Matt Waymack
The most significant helping point is that we had our TAM onsite. It provides us with a direct conduit to D2L and full access to exactly who we need to talk with to make things happen quickly. If an organization can swing it, I recommend it! Matt Waymack
The most important thing is that we preserve the continuity of instruction and prevent overage hours from interfering with student, teacher, and family schedules. Matt Waymack
We're really pleased with D2L and especially our CSM [Customer Success Manager]. D2L understands K-12 and how to coordinate things in a way that supports our faculty and students. Matt Waymack
Harness the Power of Partnership
From migration to course design and everything in between, we're here to help you maximize your results.
Frequently Asked Questions
Ready to Transform the Way the World Learns?
Whether you want to chat about Brightspace, blended learning, or our services, we're ready to help.