Creator+ eLearning Authoring Tool
High Impact
Course Authoring Made Easy
Creating advanced interactive course content doesn't have to be hard. With Creator+ in D2L Brightspace, it's as easy as 1, 2, 3.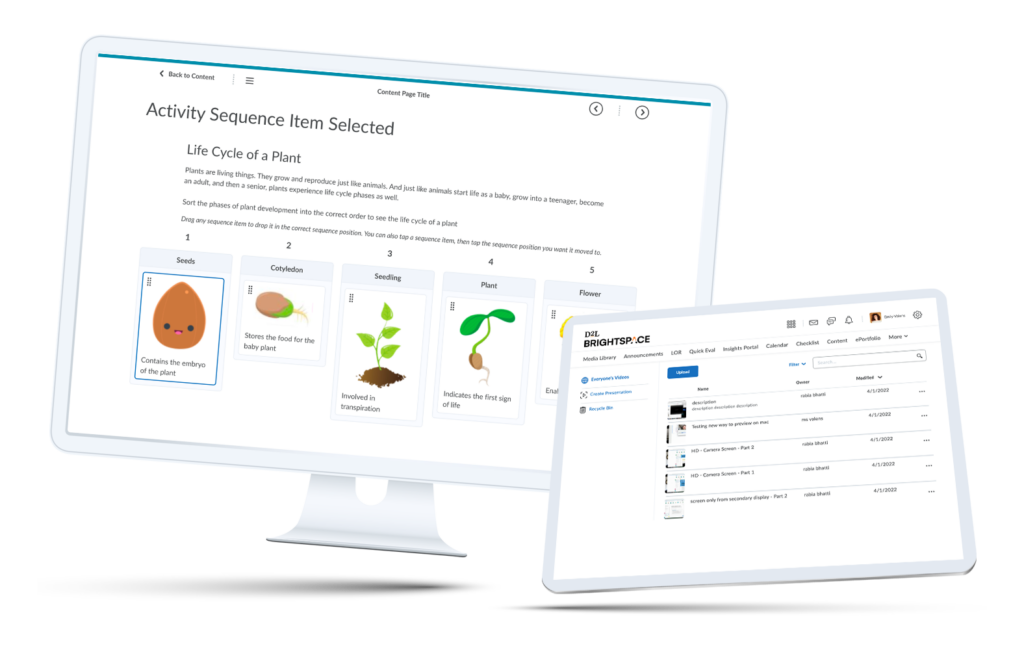 Hassle-Free Tools
To Accelerate Design
Equip Anyone to Be a Creator

From ready-made content templates and practice exercises to interactive elements and easy-to-capture video recordings,
the tools in Creator+ help you deliver a course that will wow every learner.

Templates

Interactivity

Consistent Design

Measurement

Video

Built-In Training

Templates

Build impactful courses with less time and friction. Our ready-made templates are easy to implement with any course content.

Interactivity

Create delightful content experiences by inserting user-friendly interactive elements in your courses. No coding skills required.

Consistent Design

Set global styles for your institution, a collection of courses, or just one, ensuring a design consistency that users will thank you for.

Measurement

Measure comprehension, ensure important concepts are grasped and keep learners excited with a wide variety of question types with the Practices tool.

Video

Create, upload and add videos directly into a course whether at home, in the office or in class.

Built-In Training

Receive instructional design best practices as you go to help guide your educators to inspiration.

Content Creation, Elevated

Develop dynamic course experiences faster and deliver breathtaking learning experiences without the need for interactive design chops.

learn why d2l

Save Time

Increase learner engagement with less effort while reducing the time it takes to create interactive content with ready-made templates.

One Platform

Reduce complexity by creating and publishing right from Brightspace. Gone are the days of managing two systems.

Learn As You Go

Maximize your time and reduce your learning curve. Every template comes with easy-to-follow tips and tricks.

Customize Content

Start designing course content right away with ready-made themes and templates that fit your brand.

Together, the Possibilities Are Endless

As your partner in learning innovation, D2L offers personalized services and support designed to help you maximize results. We have end-to-end solutions, from platform migration to course design and everything in between.

Ready to Transform the Way the World Learns?

Start creating today. Our team is standing by to help you along the way.