D2L Products
Redefine What's Possible
Create limitless learning moments with D2L. Our solutions are built for every stage of life, from the earliest days of school to higher education and beyond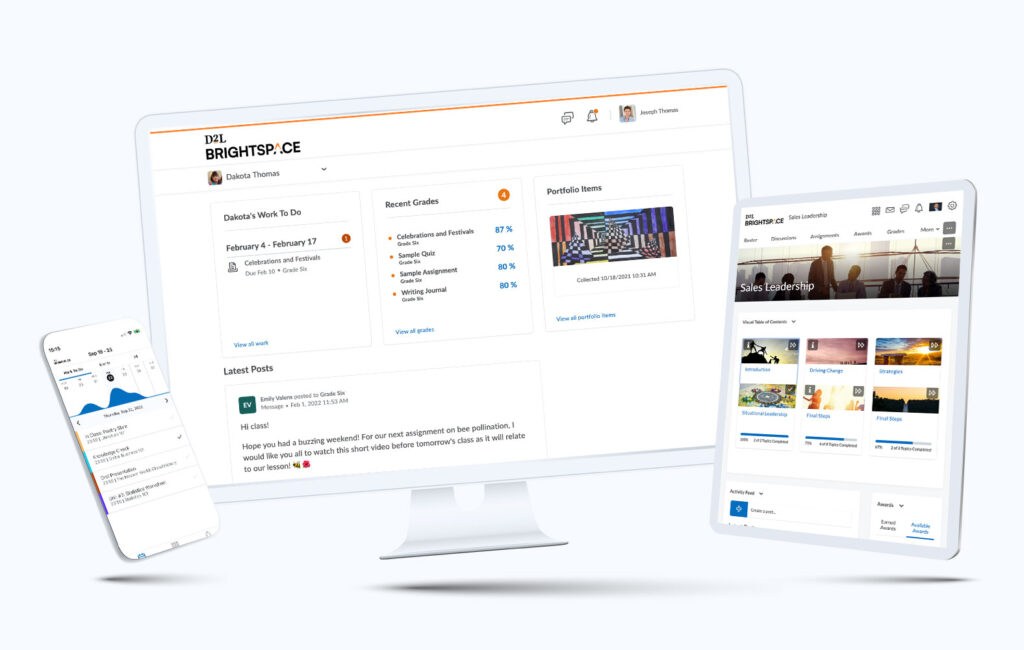 D2L Brightspace
Don't Manage Learning, Unleash It
Move beyond the limitations of a traditional learning management system with Brightspace, a learning innovation platform built to empower educators and unleash learner potential at every stage.
Integrate technology into the K12 classroom that students and parents love
Enhance the higher ed learning experience in class, online, or hybrid
Propel your business forward with employee, customer, or partner training
Create new revenue and competitive advantage with member education and training
Why Brightspace
Access Robust Tools

Unlock new teaching possibilities with powerful tools made specifically for educators.

Complete More Tasks

Eliminate routine tasks with automation and free-up time to focus on what matters most.

Make Smarter Decisions, Faster

Uncover insight into your data with power analytics right at your fingertips.

Educate Anywhere

Deliver high-quality learning experiences anywhere, anytime, on any device.

Reach All Learners

Deliver a learning experience that meets the needs of all people, regardless of age or ability.
D2L Services and Support
As your partner in learning innovation, D2L offers personalized services and support designed to help you maximize results. We have end-to-end solutions, from platform migration to course design and everything in between.
Explore all Services and Support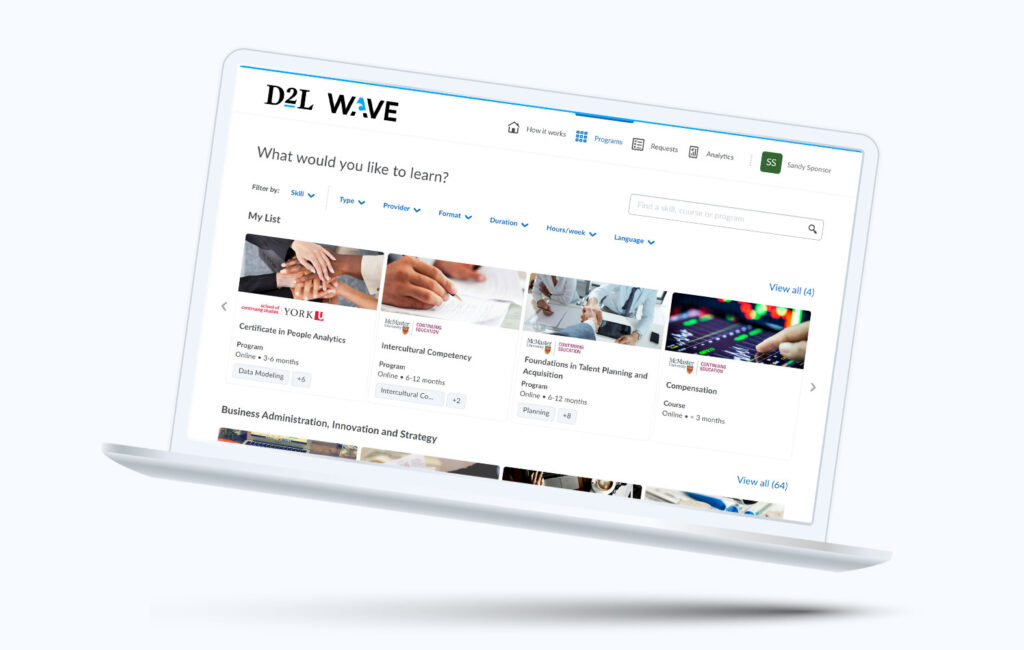 D2L Wave
Become an Organization Where People Want to Stay and Grow
Boost employee engagement and keep your competitive edge with D2L Wave, a free-to-use talent development solution designed to build the most in-demand skills across your entire organization.
Attract top talent with an employee-led learning program
Retain high performers with clear career development opportunities
Grow your business with a future-ready workforce
Why Choose Wave
Boost Recruitment and Retention

Attract and retain top talent with an employee-led learning program that aligns with your business needs and employee skill gaps.

Empower Employees

Remove barriers to growth and empower employees to own their development plans.

Reduce Administration

Centralize request management to reduce administrative burdens while identifying self-motivated, high-potential employees.

Start for Free

Optimize your professional development without spending more. D2L Wave is free-to-use with no additional costs, markups or minimum registrations.

Keep Your Competitive Edge

Build the most in-demand skills across your organization and stay ahead of your competition.
Ready to Transform the Way the World Learns?
Whether you want to chat about Brightspace or Wave, we're ready to help.